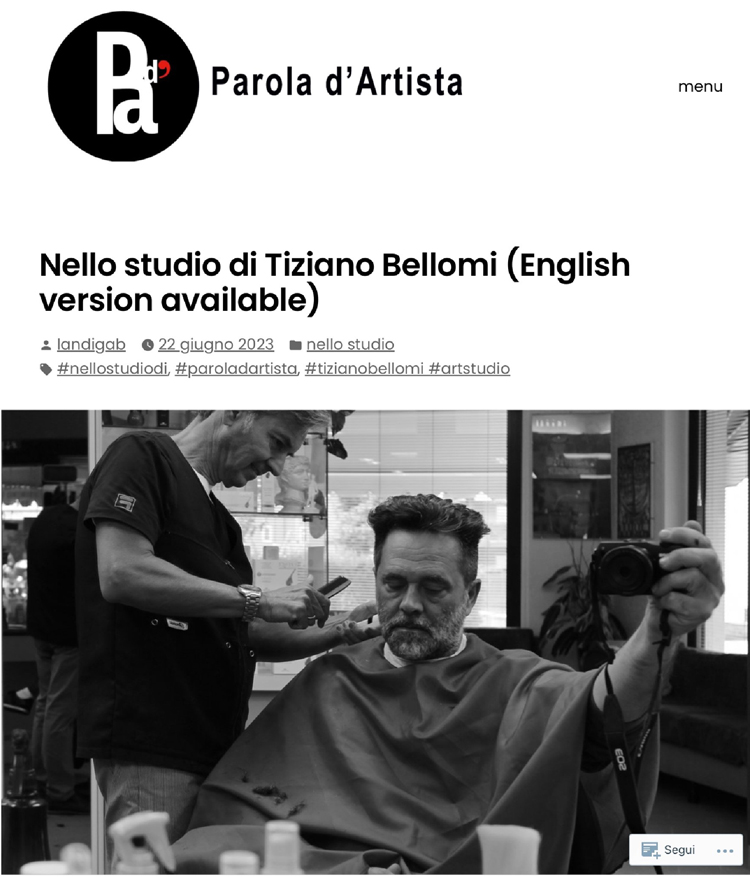 Parola d'Artista: Un interessante web site che parla di artisti e d'arte contemporanea. Gentilmente ospita un mio breve scrito nel quale faccio delle considerazioni su come vivo il mio studio e presenta delle foto del luogo.
An interesting web site that talks about artists and contemporary art. Kindly host a short text of mine in which I make considerations on how I live my studio and present some photos of the place.
---
RamificAZIONI TERZA EDIZIONE
Dal 24 giugno al 2 luglio, terza edizione di Agri Land Art all'interno del XV AiaFolkFestival, Corte Frassona, Novi di Modena, Italy, 2023
---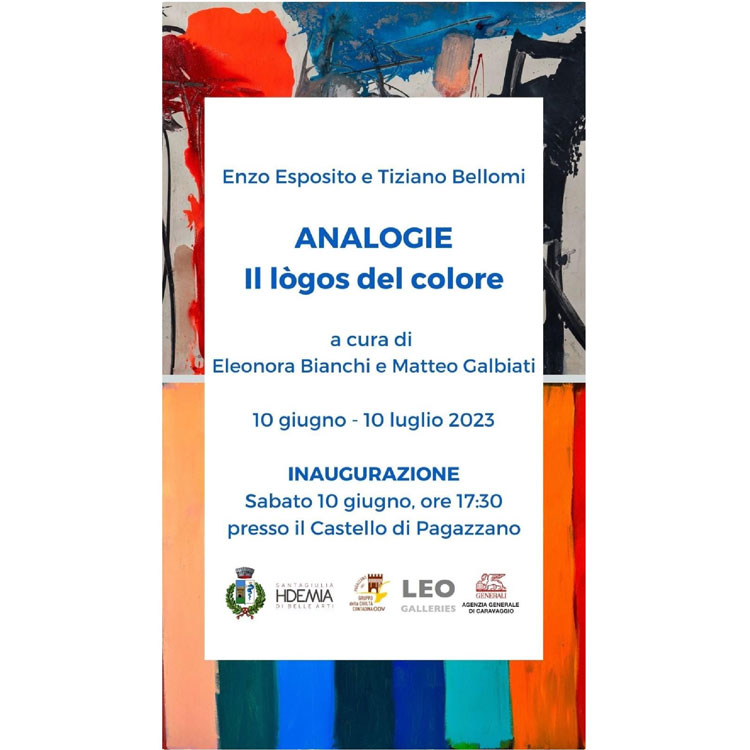 ANALOGIE. Il lògos del colore è una mostra d'arte contemporanea che vede protagonisti gli artisti Tiziano Bellomi e Enzo Esposito, a cura di Eleonora Bianchi e Matteo Galbiati.
L'inaugurazione avrà luogo sabato 10 giugno 2023 alle ore 17:30 presso il Castello Visconteo di Pagazzano, Bergamo.
Free download press release: Analogie, il logos del colore (Italian Language 380 KB)
---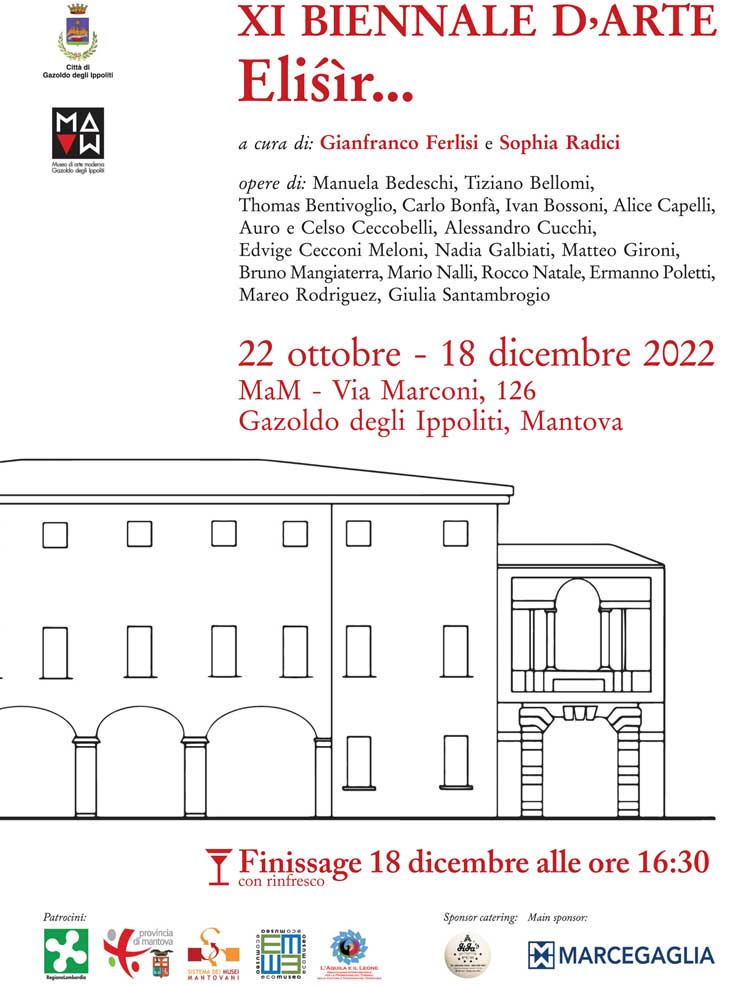 Free download press release: XI Biennale d'Arte Elisir 2022
---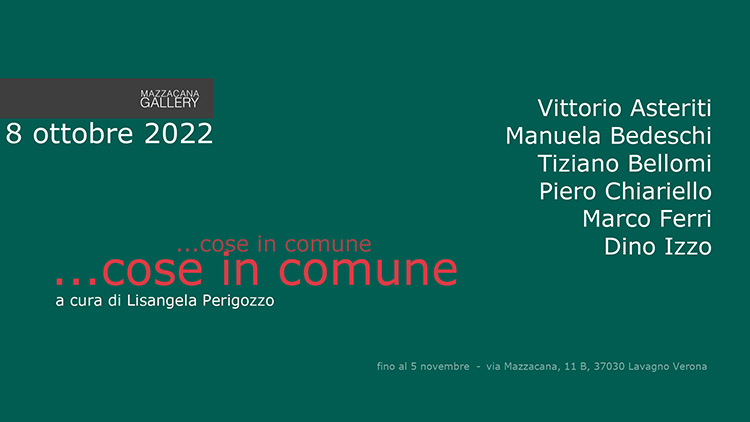 …Cose in comune
8 ottobre 5 novembre 2022
Mostra collettiva presso Mazzacana Gallery, a cura di Lisangela Perigozzo
Autori:Vittorio Asteriti, Manuela Bedeschi, Tiziano Bellomi, Piero Chiariello, Marco Ferri, Dino Izzo
S. Pietro di Lavagno, Verona, Italy
Free download press release: ...cose in comune
---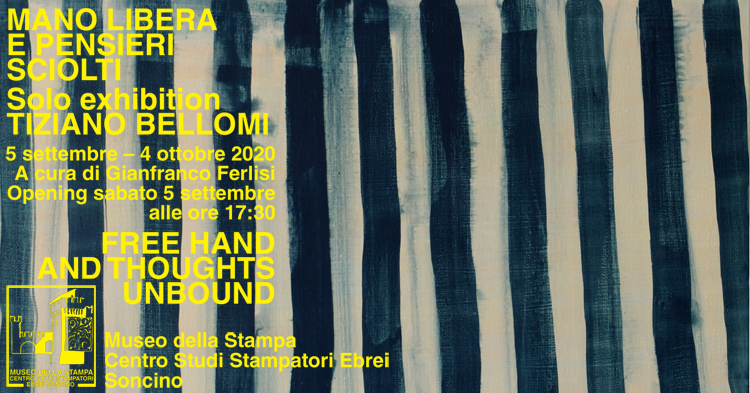 "Mano libera e pensieri sciolti"
5 settembre 4 ottobre 2020
A cura di Gianfranco Ferlisi
Opening sabato 5 settembre alle ore 17.30
Una mostra di opere grafiche che presenterà disegni, incisioni e xilografie di recente produzione, e alcuni dipinti, visitabile in sicurezza secondo le disposizioni anti-Covid.
Museo della Stampa Centro Studi Stampatori Ebrei Soncino Via Lanfranco, 6 - 26029 Soncino (Cremona) Italy
http://www.museostampasoncino.it
Free download catalog: Mano libera e pensieri sciolti Italian and English verision (3,67 MB)
---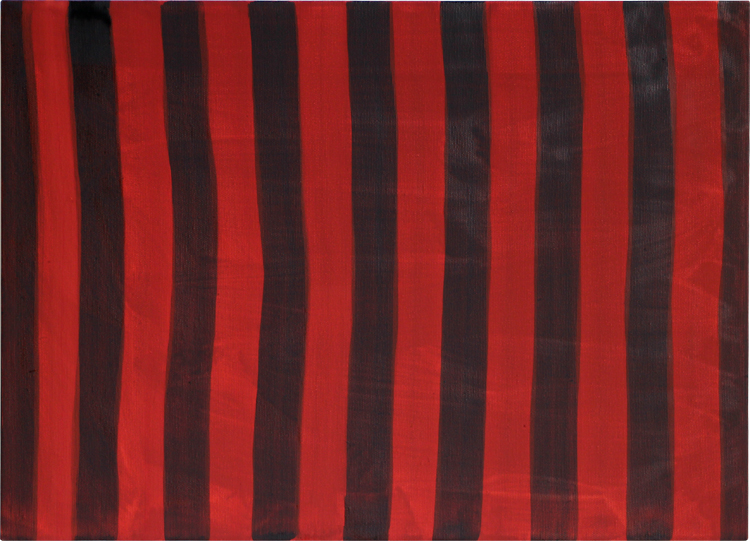 "Red Meridians" oil painting on canvas, 36 x 50 cm, 2020.
---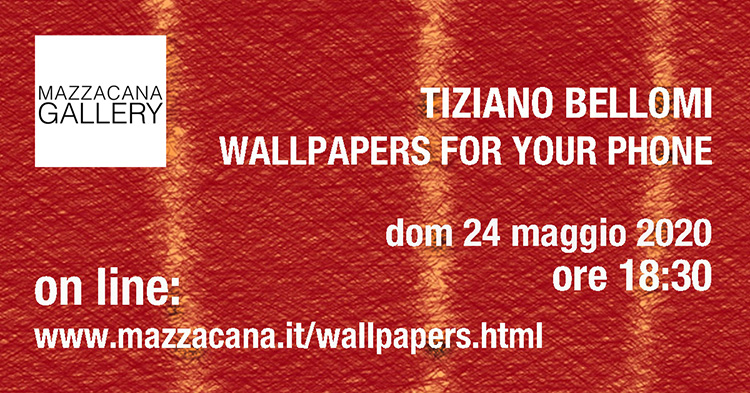 Mazzacana Gallery è lieta di annunciare l'inaugurazione della mostra di Tiziano Bellomi
Wallpapers for your phone
a cura di Piero Chiariello.
Opening domenica 24 maggio alle ore 18:30
24 maggio - 31 luglio 2020
Sarà una mostra digitale visitabile solo sul web.
Saranno disponibili 10 sfondi liberamente scaricabili.
Un'opera d'arte digitale non ha bisogno di essere tradotta in forma cartacea. Lo schermo di un telefono, il monitor di un computer, sono oggetti reali, non virtuali. Si tratta semplicemente di una realtà un pò più liquida.
Tiziano Bellomi presenta alcuni sfondi per il tuo telefono. Sono delle opere d'arte che si spostano con noi.
Vivono con noi.
Link: HD Wallpapers available for free download from 18.30 on Sunday 24 May 2020
Link: Wallpapers in alta definizione liberamente disponibli per il download dalle ore 18,30 di domenica 24 maggio 2020
---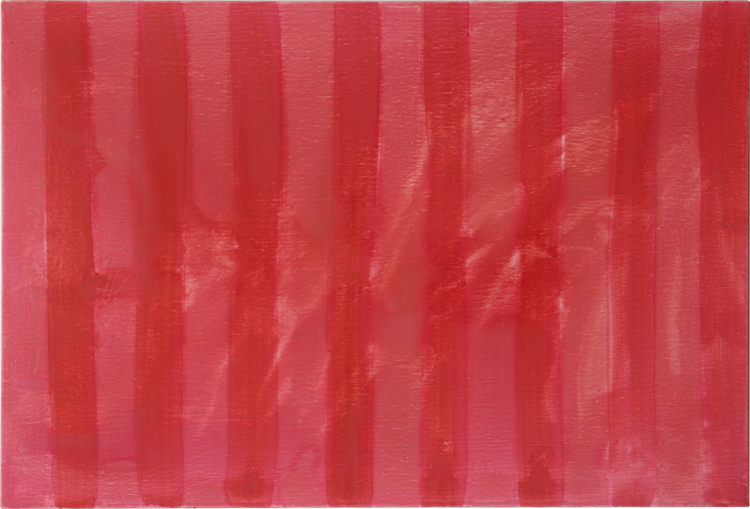 "Meridians", oil paintings on canvas, 43 x 64 cm, 2020.
---
"Algeri city name", two little oil paintings on canvas, overal 32 x 44 cm, 2019 - 2020.
---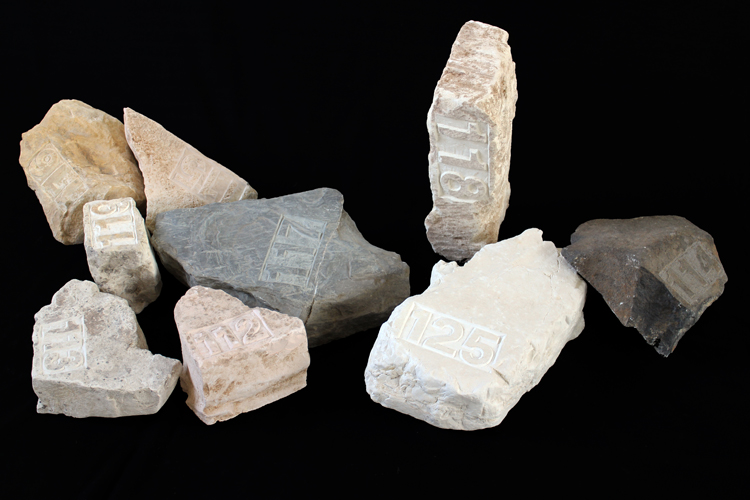 "Pietre Numerarie", un numero scolpito le identifica in modo univoco e le trasforma in pietre numerarie, una numerazione ma anche una catalogazione che rende un oggetto anonimo un oggetto particolare, 2016 - 2019.
Free download portfolio Numerazioni ( 5.07 Mb pdf )
---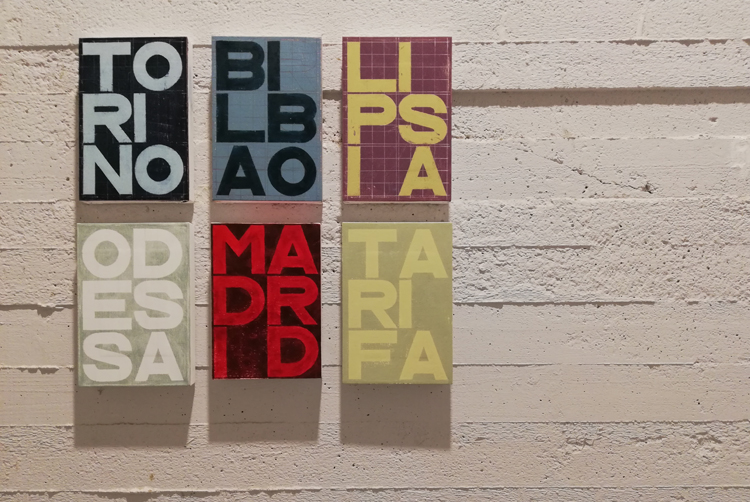 "Io sono un artista" Group shows. A cura di Piero Gagliardi e Giuseppe Capparelli, con la collaborazione di A-head e Casa d'Aste Bolli&Romiti, Roma 2018-2019
Free download portfolio "City Names" (1,64 MB pdf)
---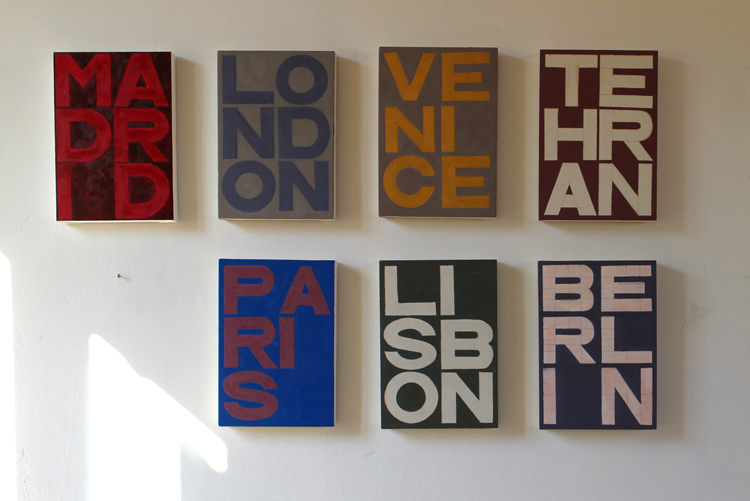 "City names", oil on canvas, 30 x 21 cm, 2018
Le notizie della giornata mi suggeriscono i nomi delle città da dipingere / The news of the day suggest me the names of the cities to be painted.
---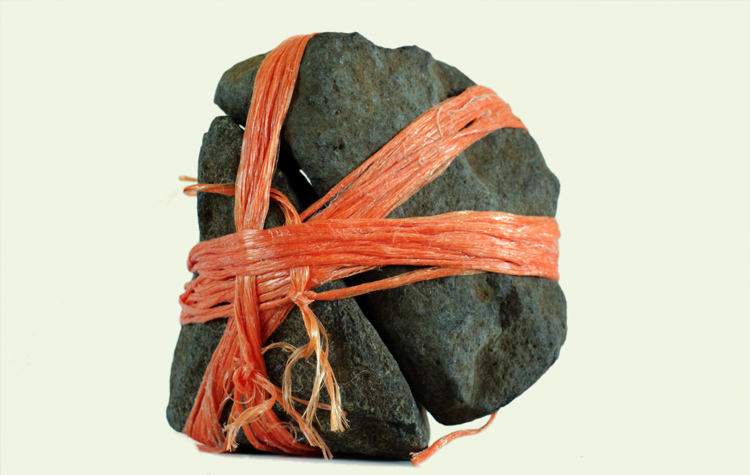 Riunione (Performance), potografia, inchiostro su carta, 20 x 20 cm, 2018

Mazzacana Gallery, Verona, 25 luglio 2018.
Un'insieme di eventi contribuisce a determinare una esistenza, occasionali incontri fanno parte della propria identità, una riunione di persone quale contributo può dare?
Rimettendo assieme le Pietre possiamo ricostruire Montagne?.
---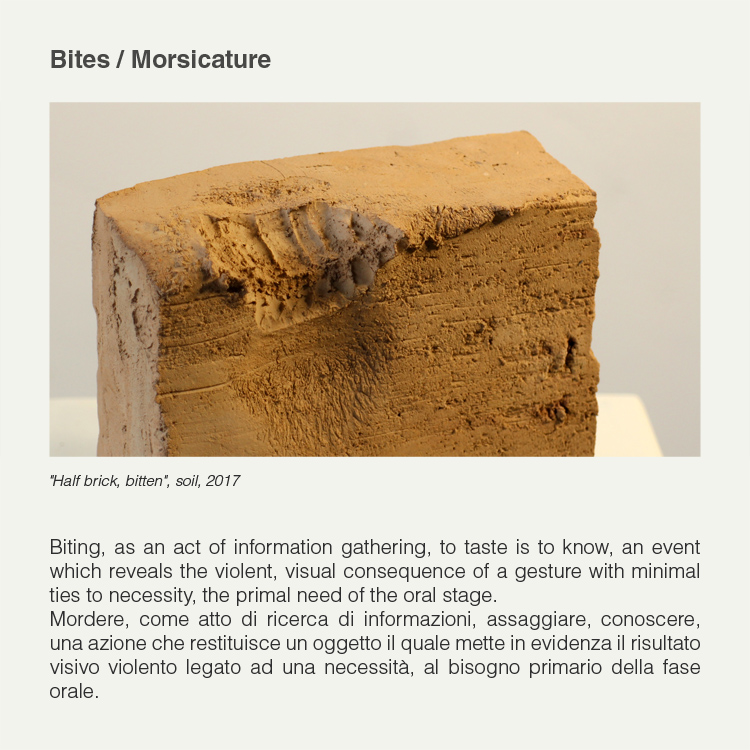 Instagram post , 20/07/2017
Free download "Tiziano Bellomi Bites", catalog italian english" (pdf 557-kb)
---
Free download
"Tiziano Bellomi Perishable sculptures", catalog italian english" (pdf 857-kb)
---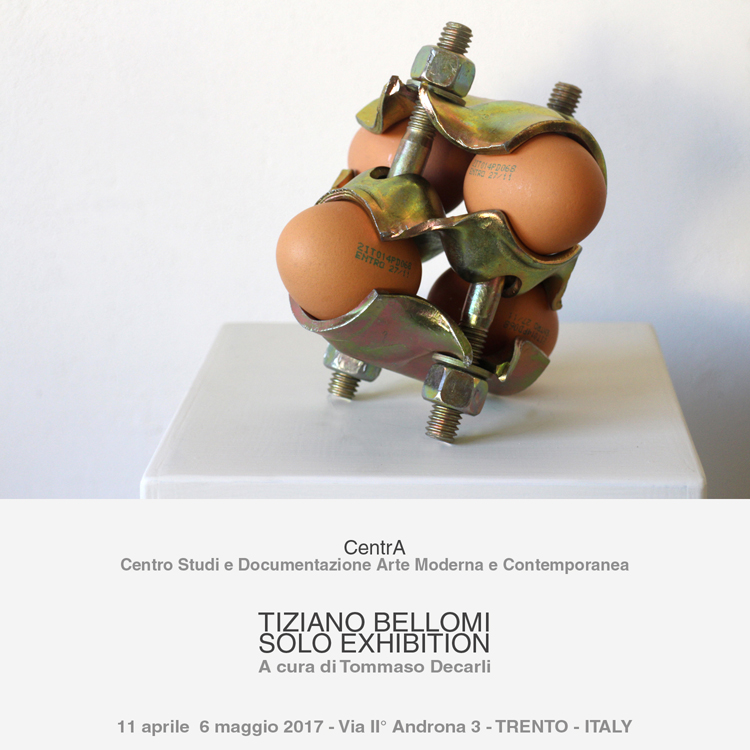 Free download "Tiziano Bellomi solo exhibition", catalog italian english" (pdf 557-kb)
---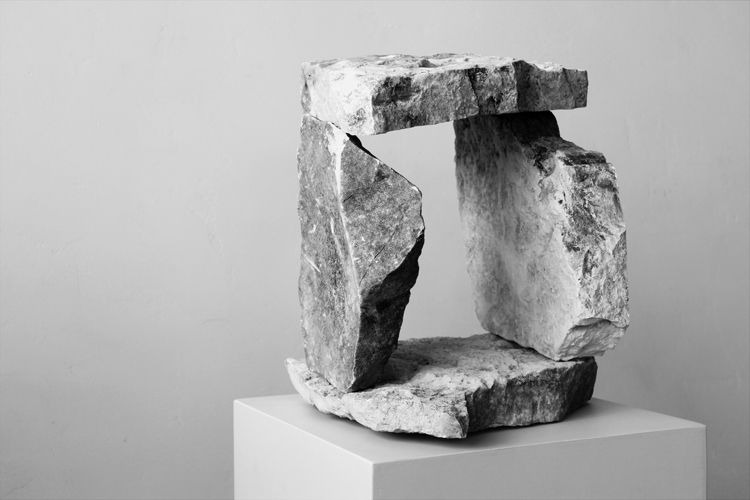 "Four stones", pietre, installazione, misure variabili, 2017.
---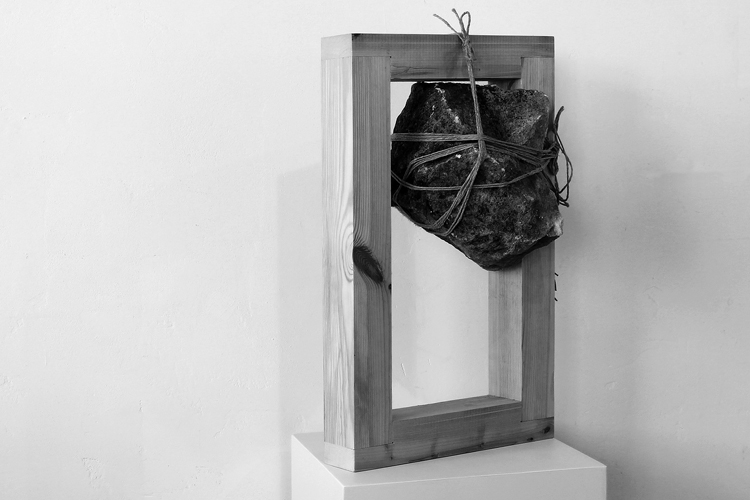 "Lay-off", legno, spago, pietra / wood, twine, stone 2017
---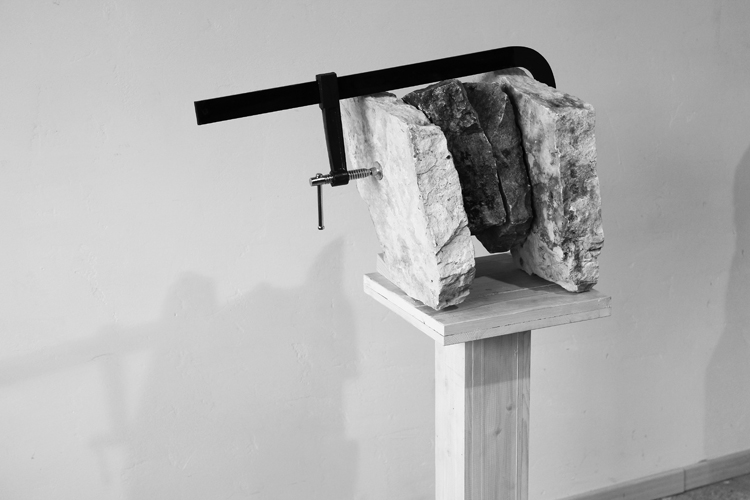 "Under pressure", pietre, morsetto d'acciaio / stones, steel clamp 2017
---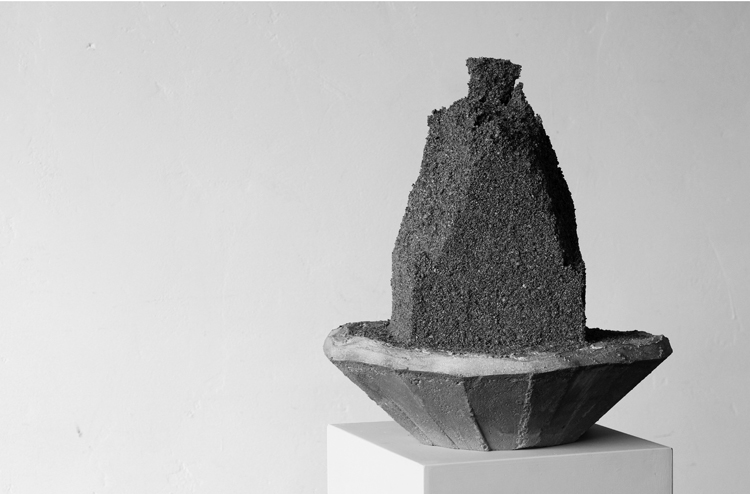 "Perishable sculpture", calcestruzzo, sabbia, acqua / concrete, sand, water 2017
---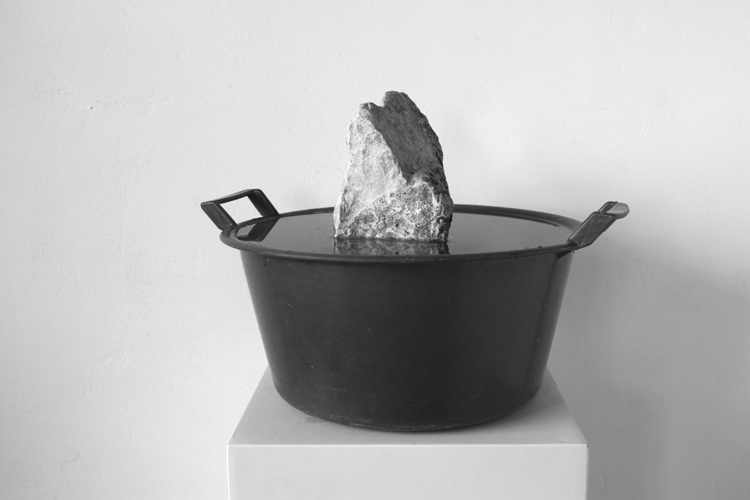 "Island", bacinella di plastica, pietra, acqua, installazione, misure variabili, 2016.
---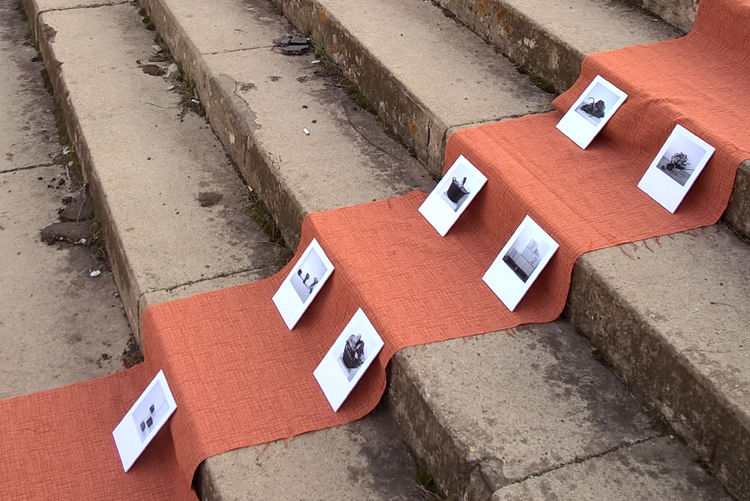 "Time is out", Solo exhibition, mostra estemporanea, Esedra Giulio Carlo Argan, Roma, Italy, gennaio 2017
---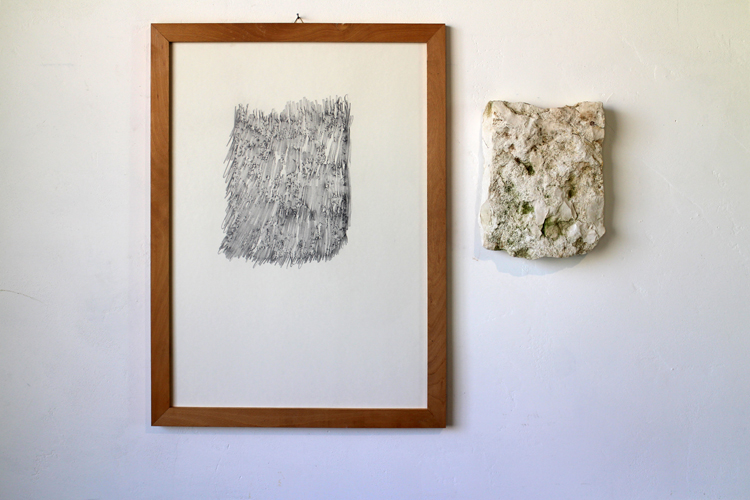 "Diptych", frottage, (graphite on paper), stone, 2016.
---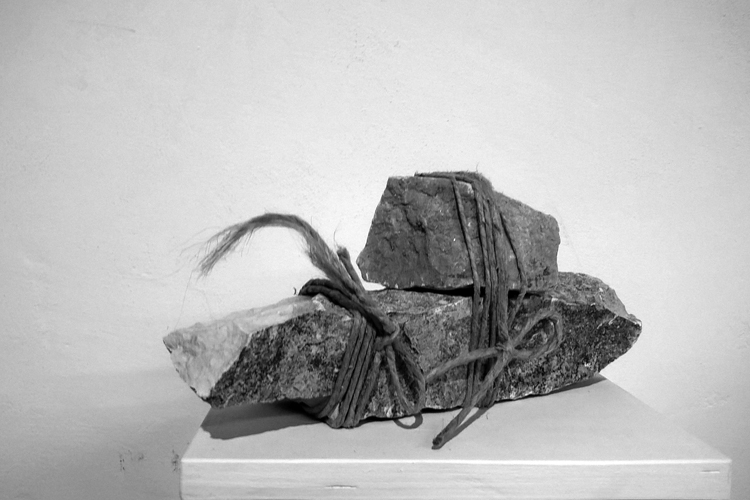 "Little Work", stones and twine, 2016.
---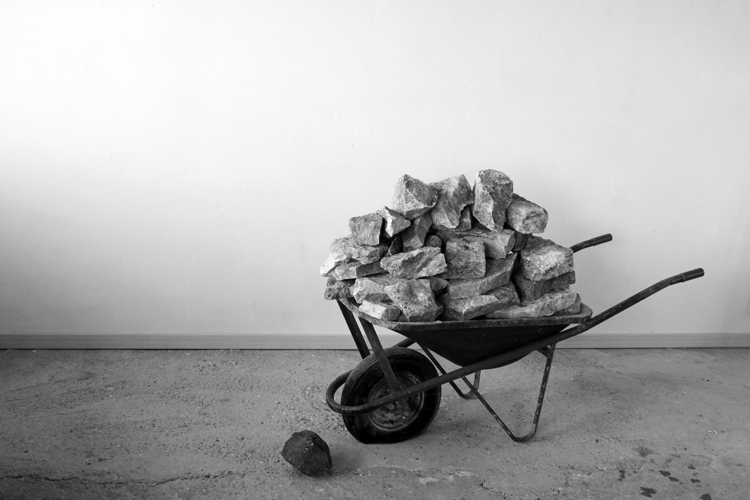 "The loss of a heavy weight", pietre, carriola, misure variabili, 2016.
---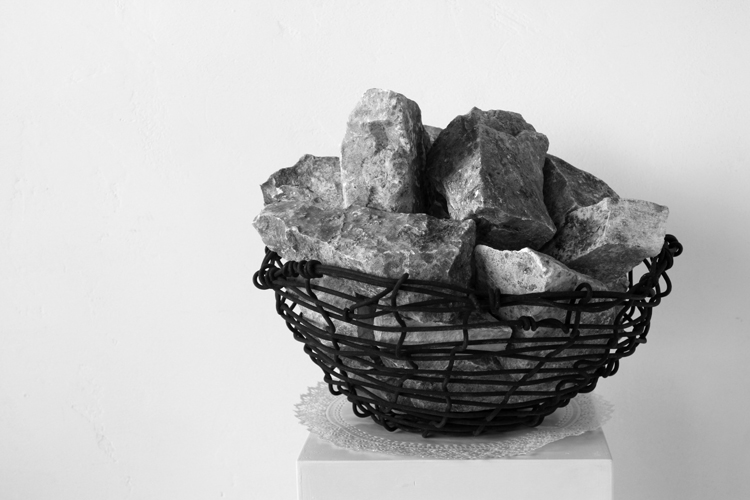 "Object for conversation", contenitore in ferro, pietre, centrino in carta da pasticceria, 2016.
---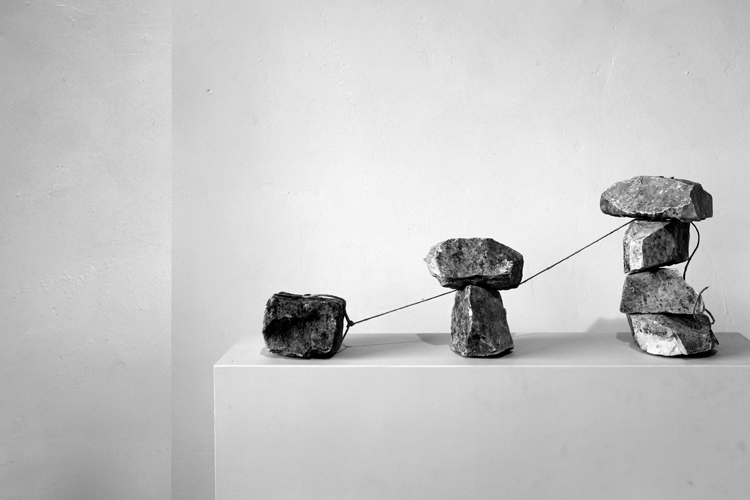 "It's logic", stones, twine, 2016.
---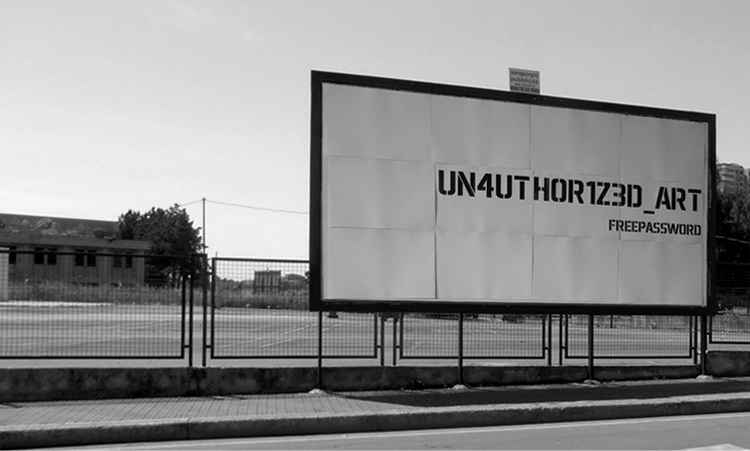 "Unauthorized-art", billposting, digital print, 2016.
---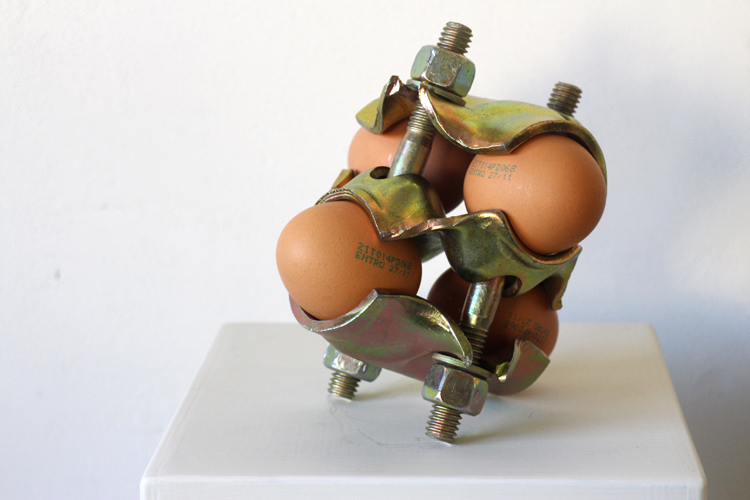 "Packaging", scultura deperibile / Perishable sculpture, giunto innocenti, uova, 14 x 14 x H 15 cm, 2016.
---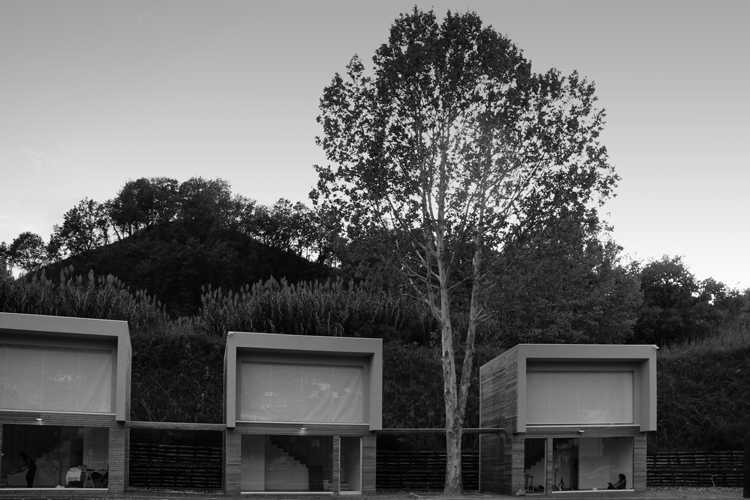 "In me cresce il ramo"
Albero, (Platanus occidentalis), tubo e tappi in acciaio, lastra di rame, viti,
contenuto: poesia manoscritta di Andrea Guastella dal titolo: "In me cresce il ramo", misure variabili, 2016.
Site-specific art work, Viale Norman Douglas, Cosenza, Italy, october 2016
Coordinate geografiche: Latitudine: 39,282867° N Longitudine: 16,272250° E
Free download fanzine "Bocs Art Cosenza" (pdf 2,54-Mb)
---
"Pneuma", Argilla, malta cementizia, mattoni, contenuto: scultura di Paolo Migliazza dal titolo "Pneuma", 29 x 35 H 30, 2016.
Private collection
---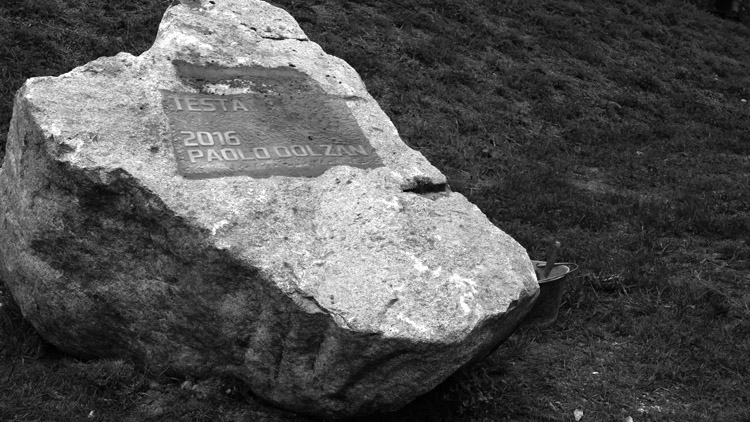 "Testa", Site-specific art work, granito, malta cementizia, tubo in acciaio, tappi in acciaio, contenuto: Disegno B/N, titolo "Testa", opera di Paolo Dolzan, 2016.Castel Ivano, Trento, Italy, 2016.
Coordinates:(46,0568, 11,5234) 46°03'24.6"N 11°31'24.4"E
---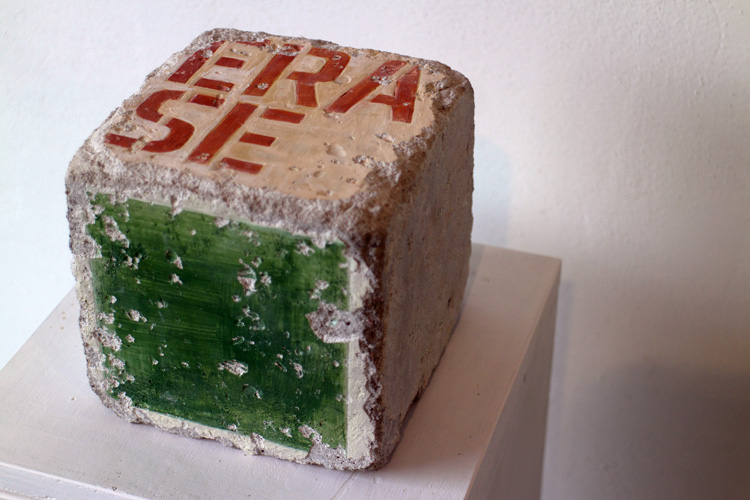 "Erase", Acrilico spray su carta, calcestruzzo, affresco, 12 x 12 x 12, 2016
---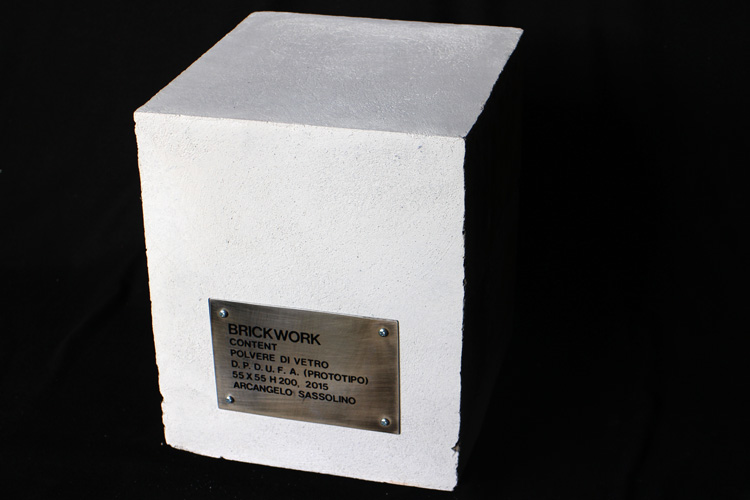 "Brickwork", scatola in legno, laterizi, malta cementizia, lamiera di ferro, polvere di vetro proveniente dalla scultura D.P.D.U.F.A. dell'autore Arcangelo Sassolino, 25 x 63 x 30 cm, 2015.
---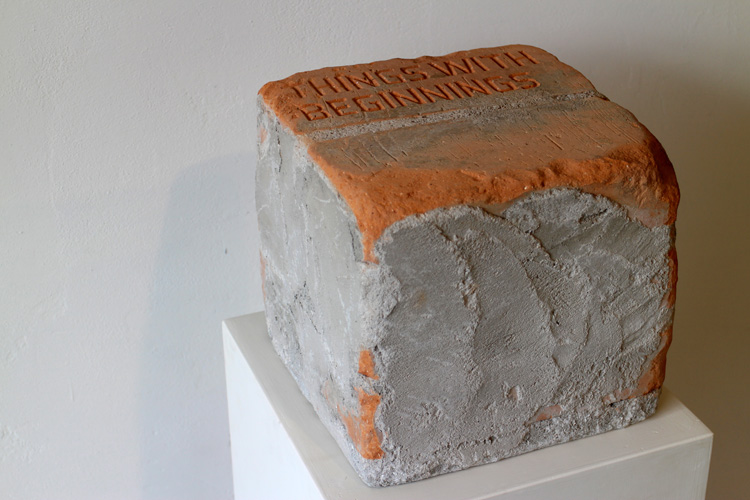 "Things with beginnings", mattoni in argilla e malta cementizia, contenuto: parti della scultura "Things with beginnings" opera dell'artista Arthur Duff, 25 x 25 x25 cm, 2016.
---
Download catalogo "Celare a memoria" (pdf 621-kb)
---
"Se uno di noi usa un linguaggio una disciplina qualsiasi per fare arte presto si troverà costretto ad azzerare, cioè riportare al punto di partenza, la disciplina stessa. Sarà quello il momento di strumentalizzare la disciplina usata fino a cancellarne la struttura. Allora i concetti si ridurranno a pure e semplici segnalazioni"
V. Agnetti
---
Copyright © Tiziano Bellomi - Tutti i materiali, i dati e le informazioni pubblicati all'interno di questo sito web possono essere riprodotti, distribuiti, trasmessi, ripubblicati, in tutto o in parte a condizione che tali utilizzazioni avvengano per finalità di uso personale, o comunque non commerciali e che sia chiaramente citata la fonte in caratteri ben visibili: "www.tizianobellomi.it".
CONDITIONS - to share - to copy
You are free to share — to copy, distribute and transmit the work
You must attribute the work in the manner specified by the author or licensor (but not in any way that suggests that they endorse you or your use of the work).
You may not use this work for commercial purposes.
You may not alter, transform, or build upon this work.
Any of the above conditions can be waived if you get permission from the copyright holder.
Where the work or any of its elements is in the public domain under applicable law, that status is in no way affected by the license.
In no way are any of the following rights affected by the license:
Your fair dealing or fair use rights, or other applicable copyright exceptions and limitations;
The author's moral rights;
Rights other persons may have either in the work itself or in how the work is used, such as publicity or privacy rights.
For any reuse or distribution, you must make clear to others the license terms of this work.The best way to do this is with a link to this web page.